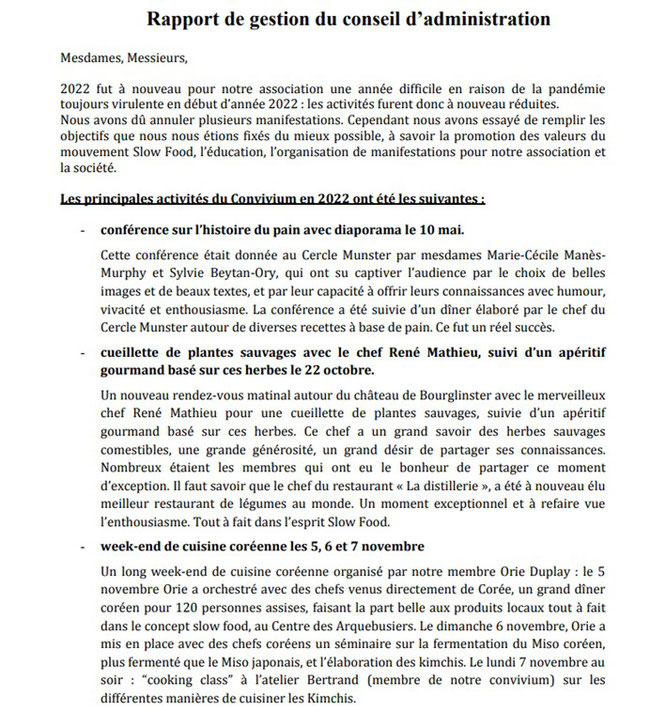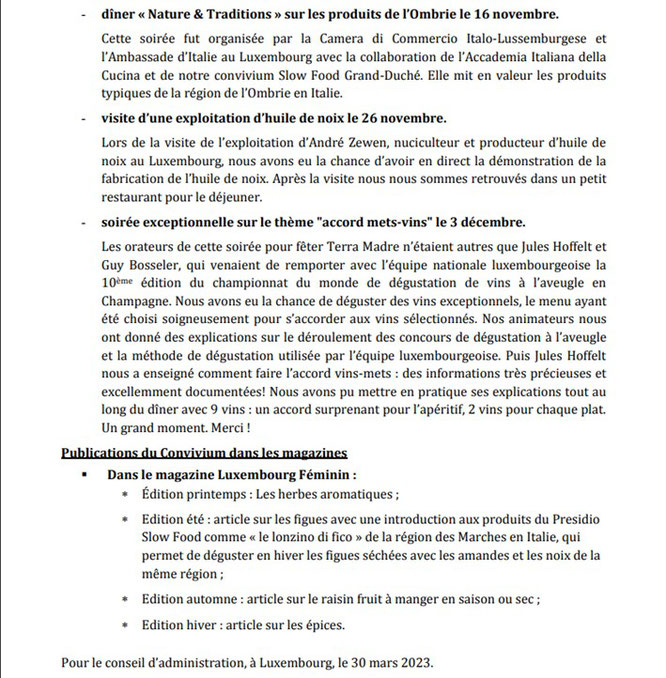 ---

Every year, Terra Madre Day can be celebrated in an endless number of ways, from small gatherings to large events: a celebratory picnic or dinner, a film screening or concert to raise the profile of good, clean and fair food, an excursion to visit Terra Madre producers, food or taste education activities, a local gathering of producers, chefs, youth and others… or a combination of the above. Be creative!
After a difficult last couple of years, Terra Madre Day offers the occasion to come back (where possible and adhering to local safety measures) out of isolation and back into sharing and conviviality. And what better way to do that than coming together and sharing a good meal with our communities!
That's why we are calling on all our convivia and communities around the world to step up and, in whatever way possible, bring people together around the table again!
To spread the word about the campaign, download the kit, spread the word and use the hashtags #TerraMadreDay and #SlowFood so we can share all Terra Madre day worldwide updates on our channels!
In need of more inspiration? Check out our Terra Madre day event ideas below!
---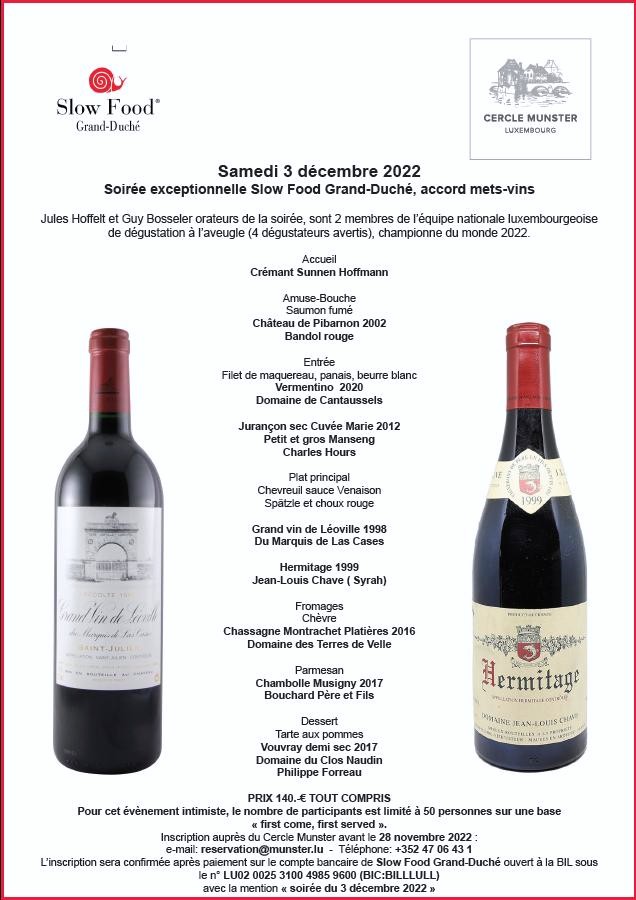 ---
 Comment fait-on l'huile de noix ?
 Nous vous proposons de venir visiter et de découvrir l'exploitation de nuciculture de André Zewen, ses noix et son huile de noix, résultat d'une passion de plus de 40 ans !
Programme
Visite de l'exploitation et démonstration de la fabrication de l'huile de noix. 
Pour ceux qui désirent prolonger : possibilité de déjeuner ensemble dans un restaurant à proximité…merci de nous le signaler pour la réservation.
Date : Le samedi matin 26 novembre à 11h
Lieu de rendez-vous : André Zewen - Nuciculteur Bio (LU-BIO-05)
1 J.B. Zewenstrooss - L-9454 Fouhren
Inscriptions : (places limitées) Avant le 23 novembre par email à  s.ferrari@slowfoodgrand-duche.com

---
Chers membres,
Cette fois-ci nous vous proposons une soirée italienne au menu basé sur des produits de l'Ombrie. Cette région de l'Italie a su conserver des traditions culinaires, des productions typiques liées à la nature du terrain, au savoir-faire des agriculteurs et des artisans de la cuisine.
Cette soirée est organisée sous l'égide de l'ambassade italienne au Luxembourg, par la chambre de commerce italo-luxembourgeoise avec la participation de l'académie de cuisine italienne et de Slow Food Grand-Duché. 
Au menu des charcuteries et des fromages typiques de l'Ombrie, une soupe de lentilles de Castelluccio de Norcia, des pates strangozzi  à la truffe de l'Ombrie, la pintade farcie aux légumes à la sauce au safran de la région et un dessert typique de la ville de Spoleto.
Vous trouverez sur le coupon réponse ci-dessous les détails de la soirée et les modalités d'inscription et de paiement. Une fiche d'inscription est à remplir en ligne ici.
Nous espérons vous retrouver nombreux à cette soirée conviviale.
Le Comité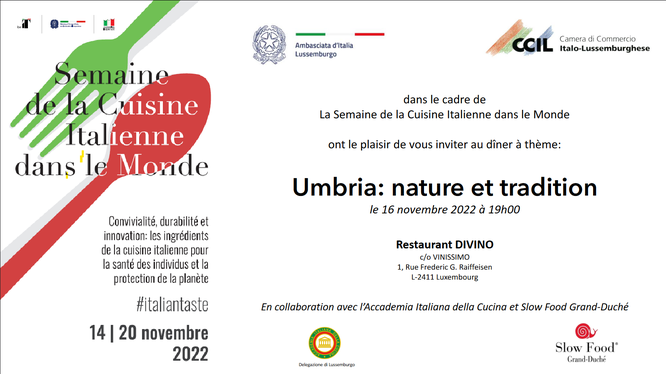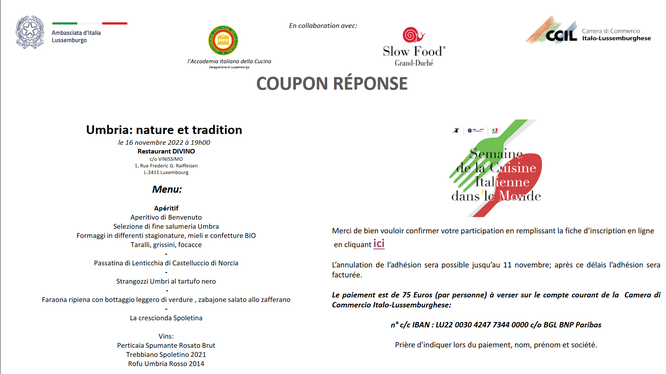 ---
Chers Amis, Chers Membres,
Nous avons le plaisir de vous faire parvenir l'invitation « Korea week-end ». Les activités culinaires et le dîner proposé est tout à fait dans l'esprit Slow Food: transmettre un savoir-faire et des recettes traditionnelles, saines. Nous attirons votre attention sur trois temps forts : 
§  Samedi 5 novembre un grand dîner coréen pour 120 personnes assises,  concept Slow Food,  au Centre des Arquebusier (tarif réservé aux membres Slow Food Grand-Duché 55€)
§  Le dimanche 6 novembre, séminaire sur la fermentation du Miso coréen, plus fermenté que le Miso japonais, et l'élaboration des Kimchis. (tarif réservé aux membres Slow Food Grand-Duché 38€)
§  Le lundi 7 novembre au soir : "cooking class" à l'atelier Bertrand (ami de Slow Food et très sensible à notre démarche) les différentes manières de cuisiner les Kimchis avec 20 personnes maximum(tarif réservé aux membres Slow Food Grand-Duché 65€)
Nous espérons vous y retrouver et vous souhaitons une heureuse immersion dans la culture coréenne.
Bien amicalement,
Le Comité Slow-Food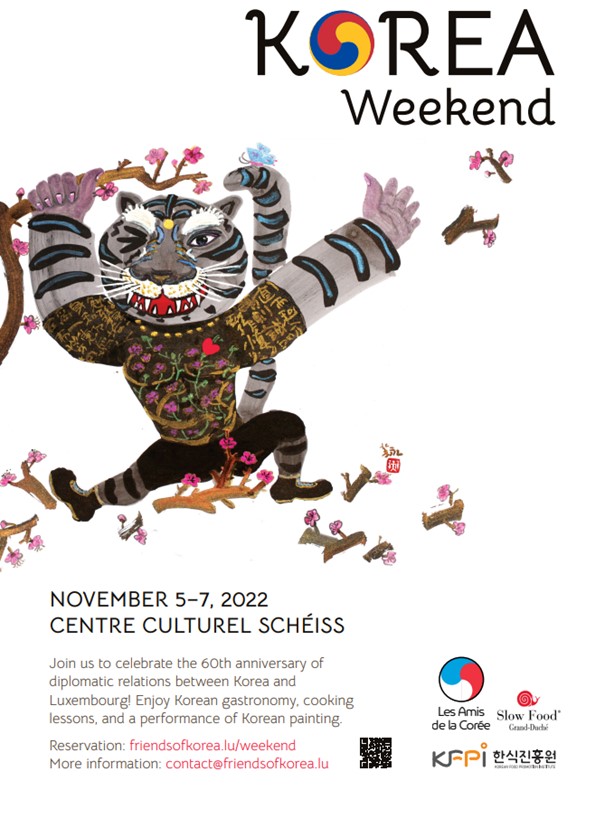 ---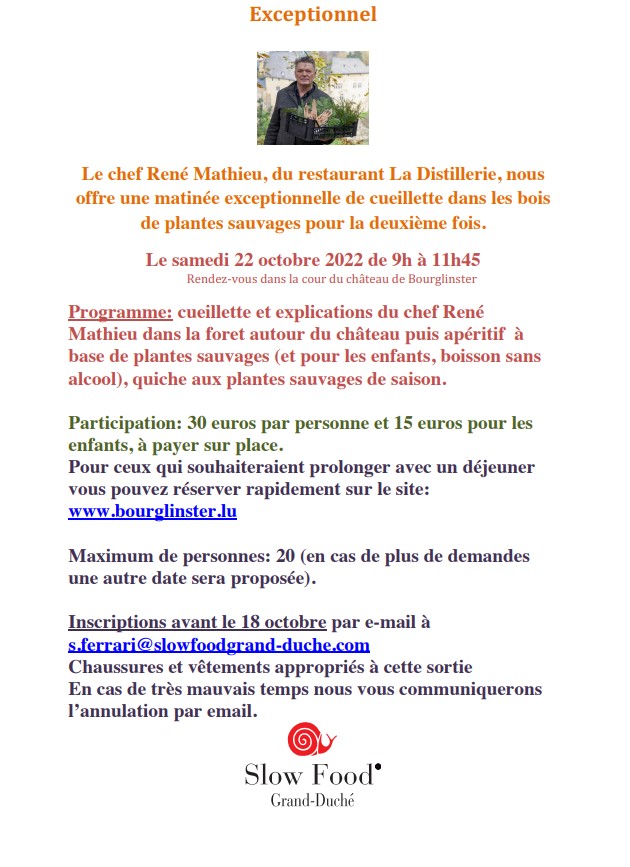 ---